Posted On March 24, 2010 By
Gio
BUY IT FROM: Amazon.co.uk –  Amazon.com – The Book Depository
Enter the world of Jane Charlotte, a mid-thirty washed-up girl from California who is locked up in a white room, in the "nut wing" of Las Vegas' Clark County Detention Center. She is sitting handcuffed at a table. "A man in a white coat", Dr. Richard Vale is interviewing her. It's June 5th, 2002, post 9/11 America. Jane, apparently, killed someone. Someone, she says, she was not supposed to kill. If that was not bad enough, when the police arrested her, she confessed that she works for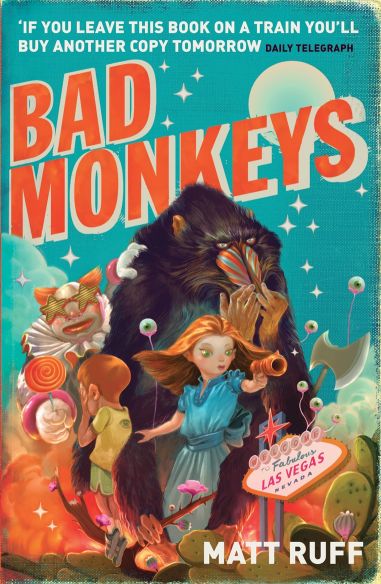 "The Department for the Final Disposition of Irredeemable Persons", or, for short, the "Bad Monkeys". The Bad Monkeys is a division of a secret organization devoted to fight evil. In other words, Jane kills people who do Evil not as a mean to a particular end (i.e. money, power); but because they are, simply, evil. Mostly, these are paedophiles, rapists, and psycho killers.
Dr. Vale is trying to find out whether or not she is crazy, and so are we, the readers of Matt Ruff's fourth novel Bad Monkeys. Will Dr. Vale succeed in his task? Will we succeed? At the end of the book, albeit quite disappointed by the rushed-off ending that throws in one more, probably unnecessary, plot-twist, I found myself thinking: does it really matter? Maybe not. The ride was fun, that is all that matters when you read a book like this.
Throughout the book we follow Jane's recount of how she ended up in Vegas: she starts from her first meeting with the Organization – when she was 14 and was instructed to kill a janitor (who had a penchant for kidnapping, raping and killing little boys). She kills him with a NC Gun, an orange look-alike-toy-gun that kills people by causing them to die of natural causes, i.e. by cardiac arrest. 200 pages or so later we end up in Sin City. Meanwhile 23 years have passed. Jane's hectic, fuzzy and often hilarious style brings us through a maze of impossible twists (far too many I must add), improbable characters, and far-fetched conspiracy theories. We meet serial killers, scary clowns, ants farm, flying Axes, and psychos that take super secret drugs that allow them to disappear and fly. Her story is often inconsistent with the reality of the historical facts, or rather implausible, as Dr. Vale points out here and there. Jane shudders the discrepancies off for they are (often) proof of the Organization's power to alter the facts. She describes the world we live in as the stage where the battle between Good and Evil takes places on a daily basis. She is one of the players of this battle, albeit not the most important one. But there are neither angels, nor devils in this crime-science-fiction-fantasy-twisted novel. No religion for all that matters. We learn, quite too late in the novel, that there are two organizations: one called simply The Organization and one called The Troop, the former devoted to do evil and run havoc in the world, the latter instead tries to get rid of evil doers and stop the Troop.
Reading Bad Monkeys one has the impression that Matt Ruff enjoys sidetracking his readers, sometimes, however, I caught myself thinking that the writer did not really know where he was going and for what purpose. Nevertheless, I quite enjoyed the bumpy ride. At one point it seems clear to the reader that Jane is a classic case of schizophrenia, even split personality. Ruff points us towards that direction and Dr. Vale calm and reassuring voice picking up inconsistencies in Jane's story and revealing parts of that story that Jane withheld from us help us, the readers, confirm that impression: this girl is definitely a nutcase who popped one too many pills, tried one too many drugs and finally lost track of reality while trying to cope with the guilt of an unforgivable sin she perpetrated in her early teens. That is certainly one, plausible, way to read Jane Charlotte's story. But then the end comes, and we wonder: was she really crazy? In fact, as soon as we think we got hold of the story, and lose some interest in it – at least I did – Ruff turns Jane's tale upside down (literally) and we found ourselves one more time wondering: what is it? And who is Jane Charlotte? Where are we? What is this all about? Is this a crime fiction with psychological twist? Is it in fact a crazy sci-fi story?
The story – as the author acknowledges at the end of the book – is indebted to the likes of Philip K. Dick. The Killer Inside Me (a 1952 novel by American writer Jim Thompson) seems another likely inspiration of Ruff's story. Here and there it reminded me of Terry Gilliam's 12 Monkeys, especially of Bruce Willis's talking with Dr. Kathryn Railly (Madeleine Stowe). True, the word monkeys in the title apart, the two stories are quire different, but they share some  important similarities: in both plots the main characters (Bruce Willis and Jane Charlotte) are believed to be crazy. They both use public telephones to talk to their organization. They are both paranoid, maybe they are crazy or, maybe, their paranoia is the result of what they know about reality, something that we – the normal people living in the normal world – are not aware of. Well , from the start, we, the audience, know Willis is not crazy, he simply comes from the future, it is only the people in the present time that have a hard time believing him. And Jane? Well with her it is more complicated. Both we the readers and often her  fellow characters are left wondering. It would not be too far fetched to say that, at times, Bad Monkeys even reads like The Matrix and Pulp Fiction blended together.
Matt Ruff is a talented writer and clearly enjoys mixing genres and playing around with clichés. This is a sign of courage and inventiveness that deserves praise; yet, such style/tactic seems to backfire here and there in the book, especially in the unsatisfactory finale. The book is by no means perfect and the ending is perhaps its weakest part. The last three chapters could have used some extra rewriting.  It is perfectly understandable that following the rambling thoughts of a mad person should throw the reader into deep confusion, but  then Ruff tries quite hard to push us to question that assumption: are we really sure that Jane is crazy? Well, I certainly understand that line of thinking, but did we really need another plot-twist at the very end of the book that changes everything? I am not sure. And I am even less sure the finale works the way Ruff intended it to work. Without revealing too much about the end, Bad Monkeys' final chapter has something that reminded me of the end of The Usual Suspects. As far as I remember, I found the final revelation in Brian Singer's movie not entirely satisfactory – Roger 'Verbal' Kint (Kevin Spacey's character) is lying to the viewers and we only realise that at the end when the detective realises his own mistake – nevertheless the twist works and it seems plausible. But Ruff's finale is less successful:  it didn't seem to me entirely plausible, let alone believable. I cannot say more, judge by yourself.
In conclusion, the book is far from perfect, but, more than the story itself and the multiple – far too many – plot-twists, what makes Bad Monkeys worth reading is Jane Charlotte's character. Jane Charlotte is one of those literary characters that readers can and should fall for. It's clear that Ruff takes more than a cue from J.D. Salinger's Holden Caulfield. Jane often sounds as if she is Holden's literary psychotic deranged twin. And I think that is a treat for any reader. Jane's recounting is what makes – above all – Matt Ruff's novel an enjoyable ride. Bad Monkeys is not perfect but certainly different from your usual commuting/flying novel. If you can cope with its imperfections, then I am sure you will like it.
BUY IT FROM: Amazon.co.uk –  Amazon.com – The Book Depository