Despite the hype surrounding The Town, Ben Affleck's latest work is not a particularly impressive movie. It is a fair and honest bank-robbers movie, and by no means a waste of time, but certainly it is far from unforgettable or an instant classic.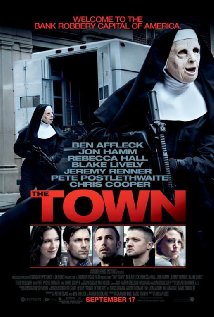 "The Town" is Charleston, a one-square mile neighbourhood of Boston, a blue-collar suburb and the capitol city of America when it comes to bank robbers. Doug MacRay (Ben Affleck, billed also as director and co-writer here) is one of them. He is the leader of a gang of four responsible for robbing several banks and armoured trucks. Their robberies have always gone smooth, but during their last job (which is the opening scene of the movie), one of the gang members, the hot-headed Jem (James Coughlin) decides to take hostage a bank manager, Claire Keesey (Rebecca Hall). As soon as they are clear, they release the hostage unharmed.
Unfortunately Claire lives only few blocks from the gang's neighbourhood. Afraid Claire might help the FBI tracking the gang, Jem plans to intimidate her.  To avoid further troubles, Doug takes on the job of checking on Claire. He follows her and ends up talking to her. The romance between the two is pretty much unavoidable at this stage. From now on the future of the gang is doomed. Doug wants to start a new life with Claire, the FBI is on their tracks and the local Town's boss, Fergus 'Fergie' Colm (Pete Postlethwaite) wants to force Doug and his gang do one last big job for him.
There is nothing in the movie that you haven't seen already in some other movies of the same genre.  The Town is an earnest movie that sometimes takes itself too seriously. Affleck is not a visionary director, but knows his crafts. Two or three scenes are quite well executed. The three robberies, for instance, especially the second one at the centre of which is a long car-chase sequence across Boston. The action is not the problem of the movie.  The acting and the writing, however, are sub-par.
The Town is not Michael Mann's Heat, or Tarantino's Reservoir Dogs. Neither it is half as good as The Departed. Scorsese's movie rested on the well-oiled structure of its prime source of inspiration: Wai-keung Lau and Alan Mak's Internal Affair. Affleck's script (co-written with Peter Craig and Aaron Stockard, and based on Chuck Hogan's novel "Prince of Thieves") is not always able to support the story's needs and its characters. The script is at ease with the scenes and dialogues set in the Gang's neighbourhood but it becomes tediously cliché when it deals with other matters, for instance the confrontation between the FBI and the Gang. Or the romance's scenes between Doug and Claire (total predictable boredom).
The weakest part is certainly the characterization of the federal police force. Jon Hamm's  Adam Frawley is a forgettable FBI agent, he certainly wont make the history books of Hollywood in that role. The same can be said of Affleck's Doug MacRay. The strength of one's enemy is always a measure of a character's value. Scherlock Holmes needs Prof. Moriarty, God needs Lucifer, Superman Lex Luthor, Robert De Niro needs Al Pacino in Michael Mann's Heat. So it might seem logical, with hindsight, that a feeble character like Affleck's McRay should be confronted by someone as weak as Mr. Frawley.

Conversely, the scenes with Pete Postlethwaite (the local Boss), and the one scene with Chris Cooper (who plays Stephen MacRay, Doug's father) are quite remarkable, but alas too short. Yet in those few minutes Postlethwaite can convey more drama and energy through his bony features than Hamm does throughout the whole movie. The same goes for Cooper's performance. The movie dedicates too much screen time to Mr. Affleck and too little to those like Postlethwaite and Cooper who could have raised the drama edge of the movie. Affleck misses a great opportunity to make his movie something more than a mildly entertaining bank-robbers adventure.

Moreover, the script of The Towm seems devoid of any belief about its female characters. The two lead-women in the story, Rebecca Hall's Claire Keesey and Blake Lively's Krista Coughlin, respectively the new and the old love interest of Mr. MacRey, are truly one-dimensional characters to the point of stupidity.  Keesey, bank manager-turned Community Angel represents the chance of a life time for MacRay to turn his life and start anew; on the other hand, Ms. Lively's junkie is always drunk and high, she represents nothing but a lost cause, a burden that needs to be dropped. It never becomes clear to the viewer why someone like Claire should fall in love with someone like Doug in the first place; and, more alarmingly, why should her love endure once she finds out who Doug really is? These questions however seem of very little importance to Mr Affleck. Love, according to Mr Affleck's unimaginative script is to marry the bank manager and kick the junkie out of sight, or something like that.
Ben Affleck is, at best, an overrated actor. As a writer – even with an Oscar under his belt for Good Will Hunting – he is quite average, but as a director, he shows, in a few scenes at least, some promises, but he needs to get rid of his unforgivable penchant for tiresome cliche. I found quite annoying his recurrent and banal use of time-lapse footage of clouded skies.

Overall, I give The Town a pass. If you are looking for some action with some pretense of depth about life and love, well this is the movie for you… if, that is to say, you don't mind a movie that is predictable from start to finish.
Genre: Drama, Romance
Running Time: 123 min.
MPAA Rating: R
Director: Ben Affleck
Writer: Peter Craig, Ben Affleck, Aaron Stockard, Chuck Hogan
Cast: Ben Affleck, Rebecca Hall, Jon Hamm, Jeremy Renner, Blake Lively, Titus Welliver, Pete Postlethwaite, Chris Cooper